About The Dead Fish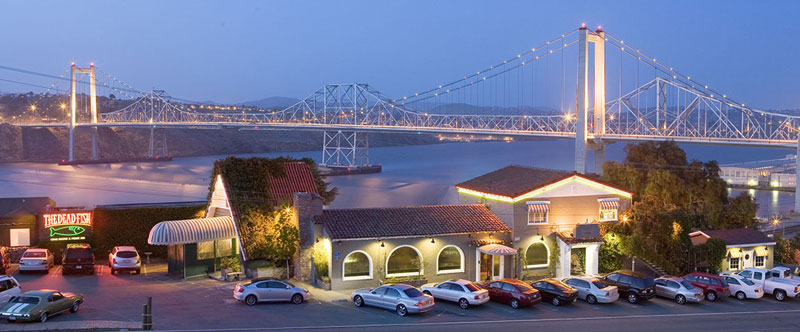 Welcome to The Dead Fish Restaurant,
A casual, comfortable restaurant overlooking the Carquinez Straits in Crockett, California.

The mouth-watering menu at The Dead Fish features great seafood and much more with headings like "Recently Demised Fish of the Day," and "Dead or Alive" after a humorous spin on the story behind the restaurant's moniker: The Chef's beloved Nonna cooked for a big family and didn't have time to track all of the different recipes she prepared, so when her grandson asked what kind of fish she cooked, she replied, "It's a dead fish!"
The seafood is, in fact, dead, but it's all good. Nonna's world famous killer crab -- a whole Dungeness crab weighing in at two pounds plus and roasted in a secret garlic sauce -- is a big seller, as is "A Nice Piece of Bass," and "Dead Fish Stew." Landlubbers will appreciate the prime rib and seared filet mignon on the "Other Dead Things," menu. Desserts like tiramisu with raspberry-mango coulis or old-fashioned chocolate fudge butter cream fondant will bring a flat-lining appetite right back to life.
To read more about the wonderful food featured at The Dead Fish, visit our online menu.
The ambience is nautical and ship-shape sparkly, tending to the dressy side of casual. The Dead Fish is a great romantic destination with romantic booth seating, and a great destination for large family-style gathering. Be sure to visit our photo gallery.
In addition to its name, this eatery has a killer view of the Carquinez Straits and Bridge.