The Buzz About the Dead Fish

DIABLO MAGAZINE - "Table With a View"
"My sixth anniversary is just a week away, and my wife wants to take a trip to a waterside paradise to celebrate. Not to worry—we don't even have to leave Contra Costa to get our coastal groove on. We're going to have dinner and drinks at The Dead Fish.
We first went to this perchedon-a-cliff restaurant, with itsmouthwatering food and its jawdropping view, when we were still in the just-friends stage of courtship. The calamari appetizers and crab enchilada helped kick-start the relationship into the romantic phase. (The Bloody Shark—the restaurant's tangy take on a Bloody Mary—also helped.)
Here's the ultimate inside tip for a cozy romantic dinner: Ask for one of the private heated booths on the restaurant's patio: You can gaze at the beautiful views the San Pablo Bay and Carquinez Strait, or you can close the curtain for privacy and gaze into each others' eyes.
Waiter, another Bloody Shark, please." —P.C.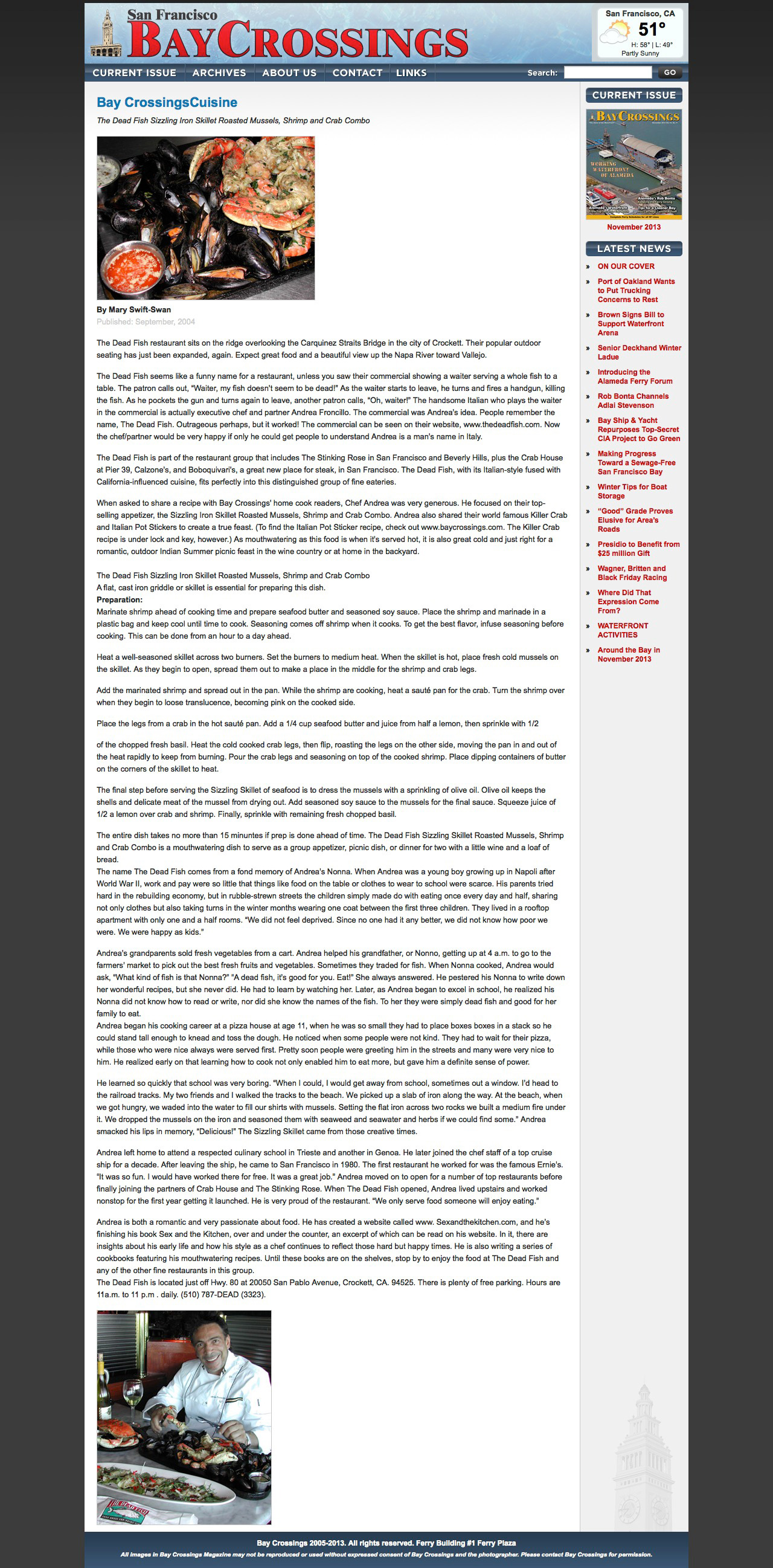 Customer email - "Oh, my! My wife and I live on the south west coast of Florida and were headed to Lake Tahoe on vacation. We stopped at The Dead Fish on our way from San Francisco to Tahoe for a meal - and we are still stunned.
In fact, we're changing our travel plans so we are able to have one more meal at The Dead Fish on our way back to Florida. We'll leave Tahoe one day early, book a hotel close to your restaurant and take in a meal on our way back to Bradenton, FL.
Franchise ... franchise ... franchise!!! I am able to tell you as a resident of Florida for over 20 years ... no place we have ever been in FL can match what we experienced this week at The Dead Fish. Want a Florida partner? ... let me know! INCREDIBLE ..."
Customer email -
"I was traveling for work and was told about your restaurant - what a wonderful treat! I had a bad trip for various reasons, late flights and on and on... finding your place was like finding the pot of gold! You really need to come open one in AZ! I have made sure I told anyone and everyone to come to your places in CA! Thank you for the BEST dinner i have had in years!"
Cherry Blossom Kisses blog
-
"My family and I have been dining at this restaurant for years now and that's usually a good sign that they must be doing something right...  Great location, perfect view, exceptional service, and of course, yummy food.  Good eats."
Customer email -
"Last night was our first time at your restaurant. We had a window table by the water which was beautiful. The food was absolutely delicious! We will definitely be coming back and have already let our friends know about it. We were celebrating our Anniversary and had a wonderful time. Thank you."
Customer email -
"A friend of mine took me to The Dead Fish last night for my birthday dinner. I had heard so much about the restaurant and was excited to finally have the chance to eat there. Everything was wonderful. The atmosphere and view spectacular. I came to work and told everyone about my experience. I usually do not comment about a meal but I want to recommend The Dead Fish to others.  Thank you for a delightful experience and birthday celebration."
Customer email -
"We had lunch with you on Sunday.  Drove from Pleasanton on a recommendation.  We were not disappointed.  The lunch was delicious and the presentation was wonderful.  What a unique hideaway you have  ---  just beautiful!"
Customer email -
"My husband of almost 20 years and I went to The Dead Fish for dinner on February 1, 2006 and I have to say it is the best restaurant I've ever eaten in.  I love The Dead Fish.  We loved the view.  I ordered the Seafood Colossal and the Dead Fish Stew and my husband ordered prime rib, pasta and crab lui for appetiser.  We pass it by all the time, always driving miles and miles to get to the bay area for some great seafood and now we just drive 20 minutes and we're there.   I can't believe it took us this long to get there but we will be a frequent client from now on.  Thanks to Nonna and the staff.  Keep up the great work."
Customer email -
"My wife and I went to The Dead Fish today and we were seated at a table with an incredible view of the bridge.  The iced tea was perfect and the bread was crunchy outside and wonderfully chewy on the inside.  It sure went great with the olive oil, balsamic vinegar and chopped garlic.  I had the Tilapia and my wife had the Salmon in lemon-butter.  Superb!  Outstanding!  We definately will be back again."
Customer email -
"I just had to drop you a little note to say "The Crab" was beyond words-- My husband and daughter stopped by and got a 3 lb. package of your garlic crab and a very good spinach salad and bread.  We had such a great time eating and talking - everything was just perfect - THANK YOU - THANK YOU."
CitySearch -
"I can die happy now - I went here for the first time on Thanksgiving of this year (2004), and what a FANTASTIC choice it was. I was in hog-heaven, eating some of the most DELICIOUS, amazing food I've ever had. The bruschetta was TO DIE for! The calamari was also quite good, and the salmon with the lemon-butter sauce was SUPERB. The atmosphere of the restaurant is also great, and the staff was nice and friendly. I give this place a 10 - I will DEFINITELY be coming back here!"
CitySearch -
"Excellent! - Recommended by a friend, I was more than pleased with the results. The service was great, our waiter was especially attentive making suggestions for us along the way. From the bread to the entree's, everything was excellent. I was with a large party so there were plenty of different plates on the table. I especially recommend the Lasange-Prawn combination. It's the best of both worlds. The prawns were loaded with garlic essence and the lasagne was reminiscent of my homemade masterpiece. It's a little out of the way as far as location but it would not hinder me from frequenting the restaurant. Prices are comparable to any other upscale restaurant and definitely worth the money."
CitySearch -
"The Dead Fish - The Best Prime Rib Ever! The Slab melts in your mouth with every bite and the garlic potatoes were the best!"